68-77 Ford Bronco Clear Window Conversion Kit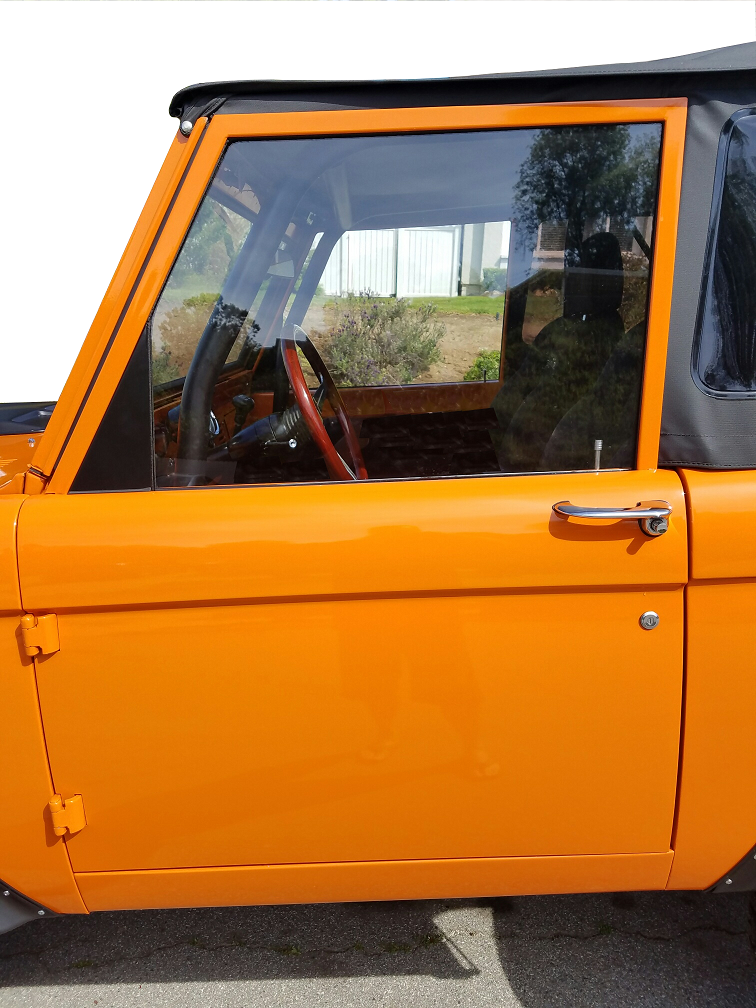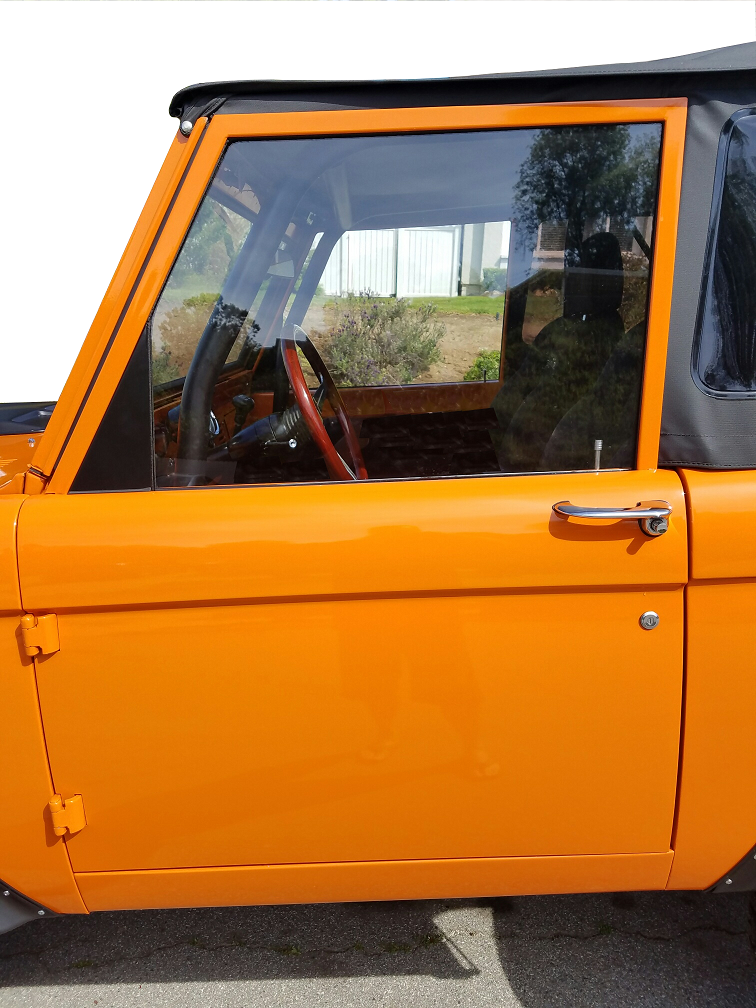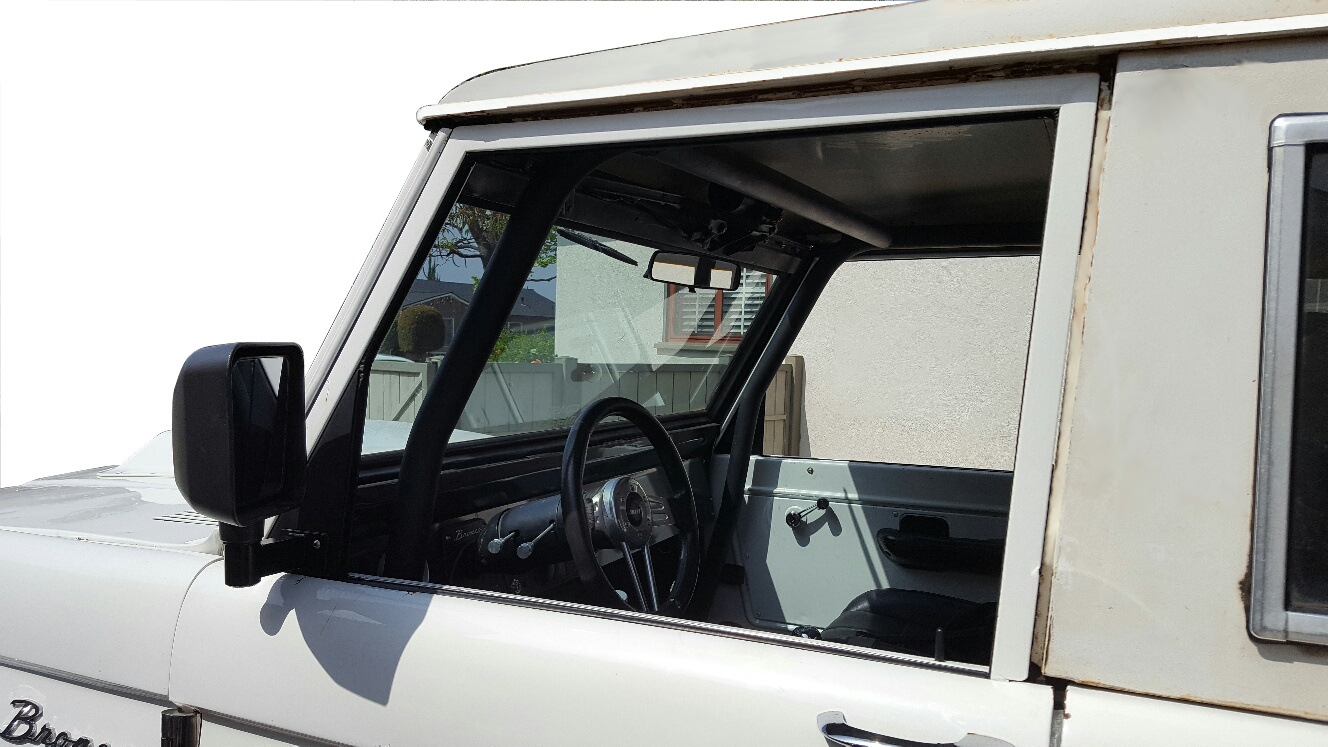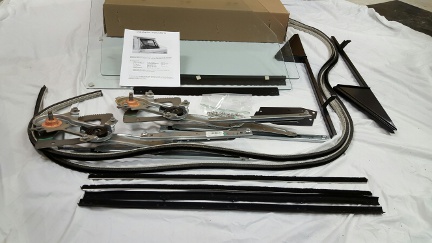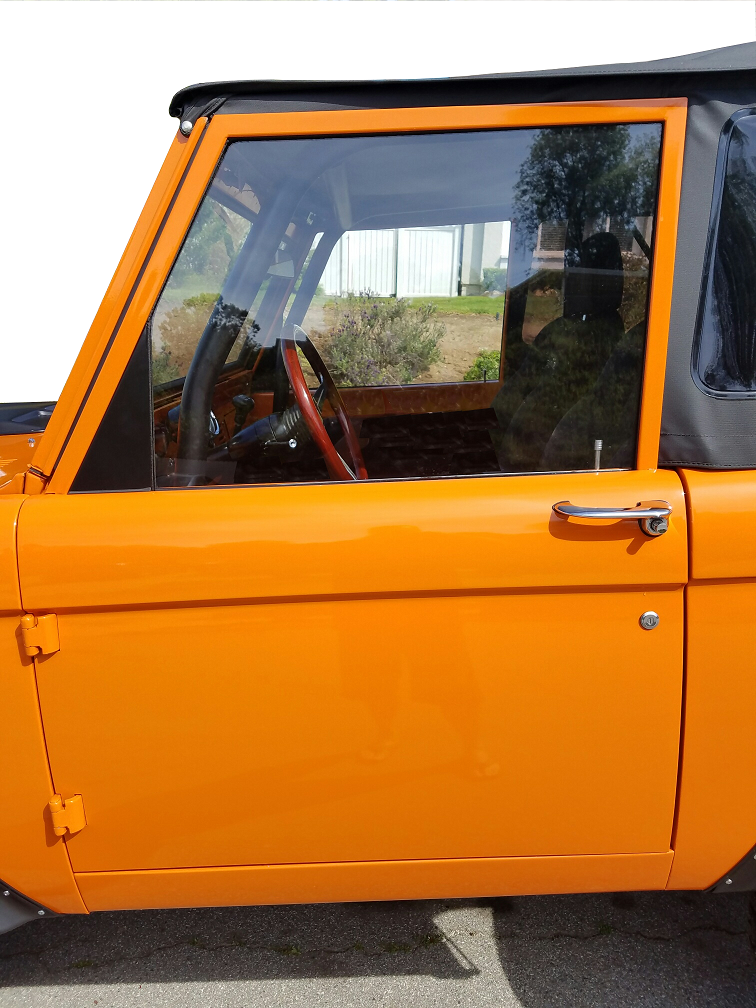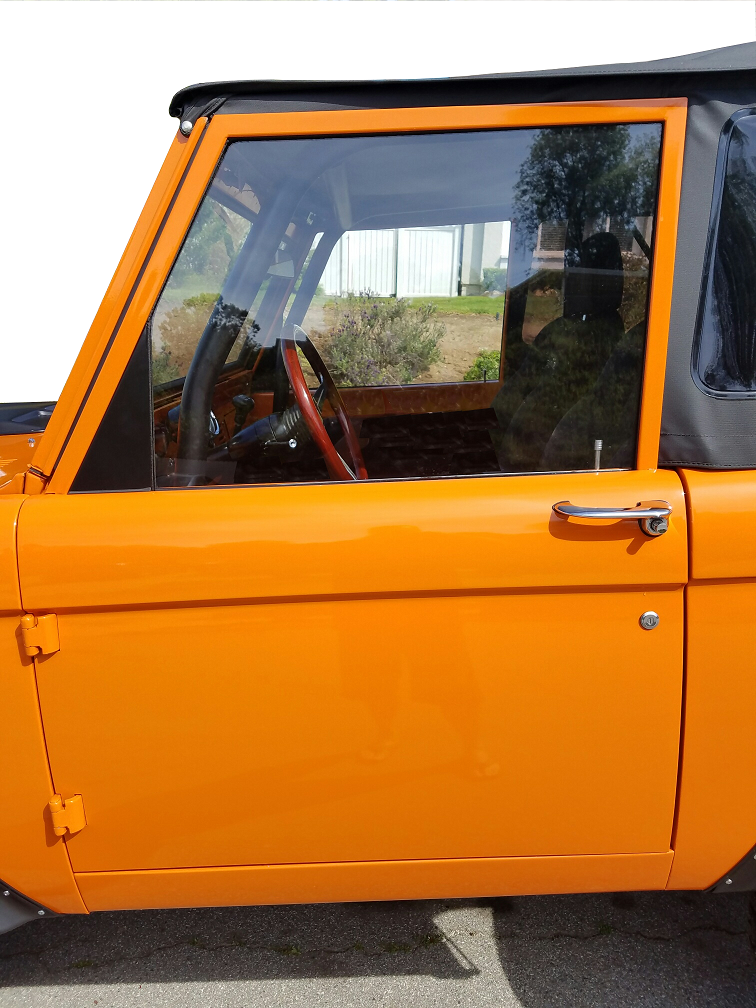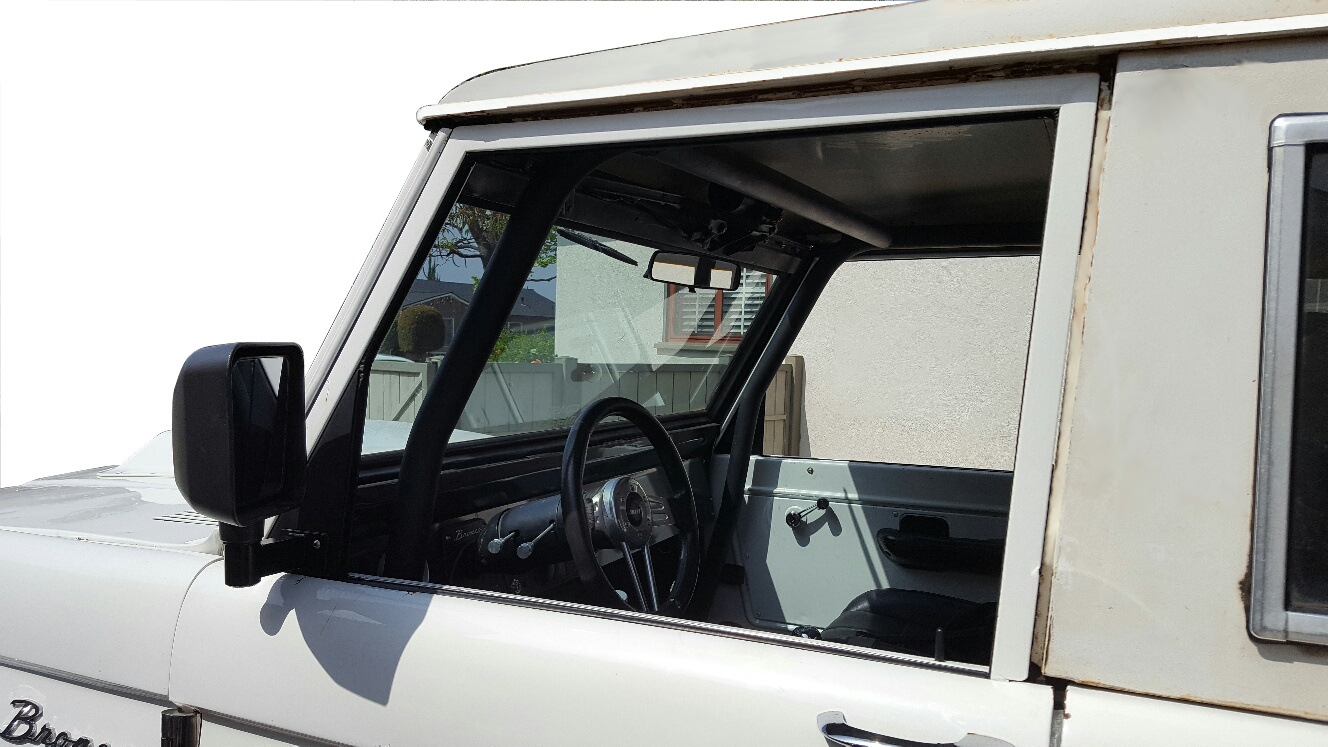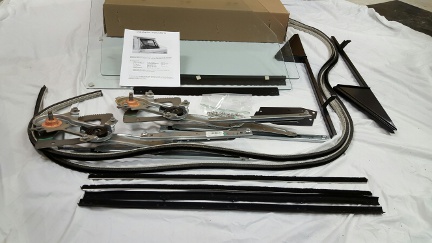 A one-time price of
$779.99
will be added to your order.
Description
Specifications
Customer Reviews (6)
Window Conversion Kit for: 1968 – 1977 ford Broncos. No more leaking whistling wind wings. This kit has a more modern look and provides better security and improved visibility. Front window frames provide enough room for many aftermarket mirrors.
The kit will come complete with all necessary components for removing the wind wings and replacing with a one piece side glass window. Kit includes front window supports, clear tempered side glass, regulators, felt channels, inside felt weatherstrip, outside felt scraper and all the brackets, mounting hardware and complete detailed instructions. Kit does both driver and passenger side.
Grey tinted tempered glass available as an option. Select the Tinted glass option from the store.
Retains all factory interior handles & latches. Easy installation, No re-painting required.
Note: you will need to check the lower rear window track on each door for wear. These lower tracks keep the window from rattling when the window has been lowered. If yours are not in good shape, they will need to be replaced as they are not part of the kit.
Mirrors are not included in this kit
Fits 1968 thru 1977 Ford Bronco's. This kit will NOT work with '66-67 bolt-on window frames.
Availability: Usually ships within 3-10 working days.
Installation instructions will come with each kit.
To view Installation Instructions PDF, paste the following address into your browser.
https://www.4shared.com/web/preview/pdf/STIe3UDzei
6 Reviews for 68-77 Ford Bronco Clear Window Conversion Kit
Top notch packaging - Wednesday, October 21, 2020

Package just arrived, wanted to reach out to you and say the way it is packaged is top notch.
thank you.
James

No more wing windows - Tuesday, November 12, 2019

Recently a customer Contacted us about installing some one piece door windows for his early bronco. We have seen a few of these kinds of kits installed on early broncos and they look very cool to us and add a level of security to hard top broncos. However we had never installed one so we were excited to try one out. We received the bronco and the door kit and went to work. The kit was made by Mike Neuer at Mikes Metal Worx in Covina California. At first glance this was a much better kit then others we had seen. The quality of the parts and the workmanship in the custom parts was top notch. After calling Mike and asking a few Questions about the install we were off. The kit installed pretty easy, especially using our shop plasma cutter in place of a cut off wheel on a grinder. The instructions were clear and the whole install including taking out the old windows and related hardware was about 3 hours. Once everything was in we made a few minor adjustments and we had both windows working perfectly. The new regulators are smooth both up and down, the new felt and trim was soft and formed easily to the doors and the glass was crystal clear with a good finish on the edges. At classic Off-Road we love old but we also love retro modding old, and we think this one piece window kit adds to the early bronco lines. To us they made the bronco feel more open and less cramped. Also If you wanted to move the mirrors forward on the door this would now be possible since the wing window would not be in the line of sight. If your thinking about this Modification we encourage you to try the Mikes Metal Worx kits.

Good fit, Easy install - Sunday, April 21, 2019

Mike

Just wanted to drop you a note on the window kit and say thanks, the fit is good and easy to install.

Looks Awsome, Installs awsome - Wednesday, May 2, 2018

Just installed this kit for one of my clients and it is a great easy to install product.

Installs easily, works great, looks awesome! - Wednesday, May 2, 2018

Ive built a bunch of Bronco's the past few years and just installed this kit for one of my clients and it is a great easy to install product. The kit installs easily, works great and looks awesome.
Thank You
Classicoffroad.us.com


Great Product - Monday, June 27, 2016

Mike, your kit and the installation instructions are awesome! This one piece window kit really finished off the look of my '72 Bronco rebuild.
Submitting Your Review, Please Wait
Your Review Has Been Submitted Successfully
Add a review for 68-77 Ford Bronco Clear Window Conversion Kit
You must include a title, rating, and message in your review.
Your Review Title
Your Rating
Your Review